Office Mantra is gestalt of technolgoies to provide leading edge platform on which your office managment can work.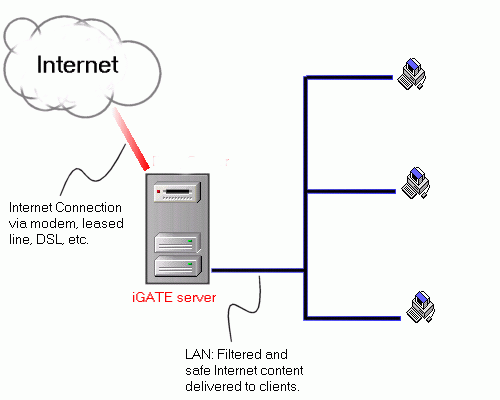 IGATE
Our iGATE server solution connects your internal network to the external Internet. It allows multiple computers in your organization to share a single Internet connection efficiently.
It takes care of all the issues related to Internet connection, automatically and transparently. It dials and connects to your ISP as and when required automatically. It also disconnects from the ISP when connection is no longer required.
It improves the security and safety of your web access by allowing you to block specific sites and services. You can also opt for real time virus scanning of downloaded web pages and files. It forms a shield between your users and the "wild" Internet.
What you gain with our IGATE Server Solution?
Share one Internet connection among several users simultaneously
Save telephone bills / connection time
Faster and more efficient surfing / browsing
Safety: Automatic virus scanning of downloaded files and web content
Block sites with objectionable content
Very low total cost of ownership
Avoid the excruciating cost of per user/seat/client licensing trap – now and in the future.
Bid goodbye to frequent and expensive downtimes due to system crashes and virus attacks.
Get out of the "mandatory" hardware upgrade cycle.
No additional training required for the end-users. If they know windows they can use our system from day one.
Highly resistant to virus infections, hence very very low downtime due to viral attacks.
With auto-configuration you do not need to individually configure each computer on the LAN.
Features
Supports most of the Internet connection methods like normal dial up, ISDN, leased line, DSL/ADSL, etc.
In case of normal dial up/ISDN connection, the server supports automatic dialing and disconnection.
With automatic dialing the server removes the tedium of repeated re-dialing. And with on-demand dialing feature it will only connect to the ISP when required.
In case of time based internet connections, you save money because the server connect and disconnect itsself from the ISP as required automatically.
In case of bandwidth based connection you save money due to reduce internet traffic.
In case of unlimited plan, you save time, hence money, due to reduce internet traffic.