Office Mantra is gestalt of technolgoies to provide leading edge platform on which your office managment can work.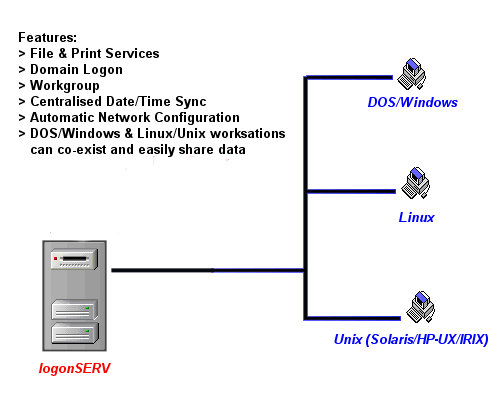 LogonServ
logonSERV server provides a centralized file and print services..
It can also provide NT domain logon services. It allows the users to log on to the local network and makes available various resources like files, application, printers, etc.
What you gain with our logonSERV Domain Server solution?
Very low total cost of ownership
Avoid the excruciating cost of per user/seat/client licensing trap – now and in the future.
Bid goodbye to frequent and expensive downtimes due to system crashes and virus attacks.
Get out of the "mandatory" hardware upgrade cycle.
No additional training required for the end-users. If they know windows they can use our system from day one.
Support for most of the popular clients and workstation like DOS, MS Windows 3.xx, MS Windows 9x, MS Windows NT/2000, Linux (Redhat, Suse, etc.), various Unix flavors like Solaris, HP-UX, IRIX, SCO Unix, etc.
Features
"NT Domain" Logon server (Win 98 & XP prof).
Automatic network settings for client nodes on the LAN.
WINS or Window name lookup server function.
Centralized Administrative and policy settings (Win 98).
Uniform look and feel of desktops including startup screens, wallpaper, etc. (Win 98).

Customized

startup messages, support information, etc. (Win 98).
Push installation of software from the server to the clients. (Win 98).
Centralized network installation supported.
Periodic client maintenance tasks can be performed by the server, like - (Win 98)

emptying recycle bins
learning temporary folders
lient hard disk check (scandisk)etc...

Message of the Day or bulletin features. (Win 98).